Cisco's WebEx and Zoom have gone head to head to win your attention and choice of download as the world shifts to remote working. We're here to share why WebEx is the better choice for your organization.
If you want to test both platforms for yourself, you can try both for free.
1. WebEx Has Never Sold User Data to Third Party Advertisers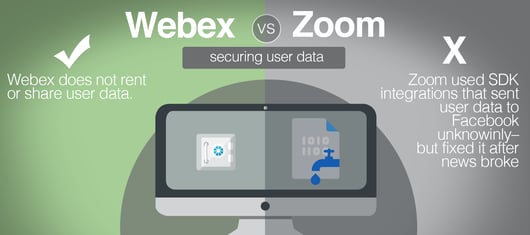 Zoom made headlines earlier in 2020 for data sharing with third party advertisers such as Facebook. Though this has since been changed, Zoom continues to use TrustArc to get consent to use user data for their 46 third-party partners (like Google). Users report finding difficulty in opting out of sharing with how Zoom's "Accept" buttons are structured.
WebEx does not rent or sell user data to third parties and is backed by Cisco's clear security privacy policy.
2. Webex is More Secure Out of the Box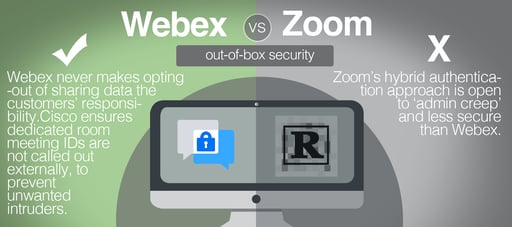 Zoom has a history of lax security and security defaults leading that what is now known as that's "Zoombombing." The company is planning to correct his, but as as the publication date on this blog, the company has not committed to a date to correct the zoombombing.
By default, Webex is secure- never making it the customers' responsibility to opt-out of sharing data, or change meeting settings to be protected.
3. Webex Encrypts More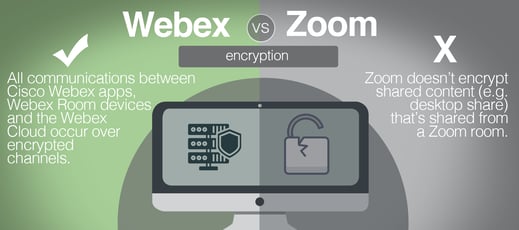 All communications between Cisco Webex apps, Webex Room devices and the Webex Cloud occur over encrypted channels. Once a session is established over TLS, all media streams (audio VoIP, video, screen and document share) are encrypted.
Zoom doesn't encrypt shared content (e.g. desktop share) that's shared from a Zoom room.