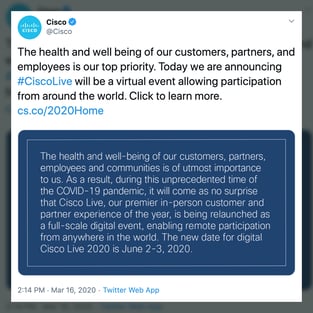 This year Cisco Live is enabling remote participation from anywhere. Due to the COVID-19 pandemic, Cisco Live is being relaunched as a complimentary, full-scale digital event. Cisco is committed to making the digital version of this beloved gathering reflect the energy of past Cisco Lives that so many have come to enjoy.
While many are working outside their typical offices and environments, we encourage taking advantage of free virtual participation.
The June event will feature:
Live-streamed keynotes, Innovation Talks and technical content
On-demand technical deep-dive sessions
Interactive opportunities with Cisco experts
Social media contests
For those who have registered, refunds will be applied to original forms of payment within 30-60 days.
Reinvest Cisco Learning Credits
If you've already applied your Cisco Learning credits towards attending Cisco Live, you can reinvest those credits for technical advancement for yourself and your organization.
What else can you put Cisco Learning Credits towards?
Cisco Learning Credits can be used to purchase the following: