Each TBL employee was given a surprise envelope. Here's what we did with the contents.
The Surprise
Each TBL employee unexpectedly received an envelope from TBL's CEO that read "Do not open yet," and were instructed to wait until the following week to open the envelope. As far as we know, each employee ignored the temptation to open before instructed.

1600 Forest Ave, Richmond, VA 23225
tblnetworks.com
804-822-3640
The TBL family resembles most families these days. It's a collection of individuals. Each of the TBL members family are trying to make the best of a difficult situation. They all are trying to balance joy with safety, respect with frustration, and hope with gloom.
We all lead in some aspect of our lives and, for me, one of those aspects is in my work life. As CEO of TBL, I feel a responsibility for my team and their well-being. I feel challenged to make their lives a little better because they are the conduit through which we aid our customers. Without this team, there is no company; there is no TBL.
Over the last few weeks and months, I sought to find some way of lifting my team, which isn't an easy thing to do. People are motivated by different things. Some find energy where others find exhaustion – the ole introvert vs. extravert dilemma. How can I uniformly bring joy to such a swath of personalities?
Sitting on my couch one evening, an idea struck me. The natural reaction, almost universally, to giving is delight, satisfaction, elation, or glee. Those feelings are magnified when the giving is seemingly random. It leaves the act of giving pure and without condition.
So, there began the challenge. We gave each of our employees a one-hundred-dollar bill with the instruction that they are to give it away to a stranger over the next four weeks.
Now, the cynic might say this is a publicity stunt. But they would be missing the point…the real value in this. I believe the recipient of the one hundred dollars need not ever hear the name of our company for us to recognize the value in this exercise.
Our goal is to uplift in our team for whatever time this lasts. The telling of this story – what we're doing, why, and the outcomes all play into our goal – the lift.
The primary beneficiaries are the participants. The recipient benefits by a hundred dollars, at a minimum. Hopefully, they benefit in other ways. The giver benefits in the feelings and afterglow.
I write this message to tell you their stories, not mine. This letter should give you the context from which to better understand what our team is doing and why.
I also tell you their stories in the hope that it reaches someone else – that someone who, for a change, needs to read of good in this world - something that's not connected to politics, or disease, or oppression.
This is a good story, one of those doing something for others. This story is for you.

Patrick Tredway, CEO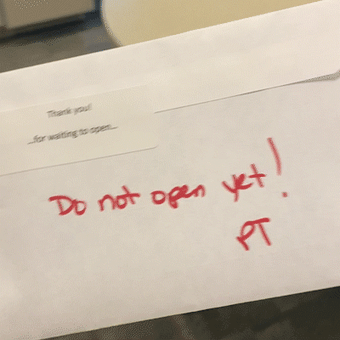 The Speculation
We recorded some reactions and envelope-content guesses in the video below. While suspicious, most thought the envelopes contained something playful.
The Reveal
After several days of anticipation, we met as a company via WebEx and, as a team, learned the content of the envelopes.
The Outcome
In the coming weeks, we will share the experiences with committing random acts of kindness.